Professor Henry Cowles of Oberlin College.
Editor of The Oberlin Evangelist.
Commentaries on the entire Bible.
Articles from this within them:
On Apostacy and the Saints' Perseverance.
Comments of Various Scriptures in:


The Oberlin Quarterly Review.
---
Please respect our right to distribute and change this CD.
If you desire to do so, we would be glad to talk about it.

Visit us at: http://truthinheart.com
Phone: 616-447-8124
Or email: truthinheart@hotmail.com
TO ORDER THE FINNEY, MAHAN, AND EARLY OBERLIN REFORMATION CD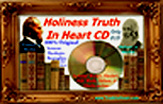 Click here to fill out an email form and send $17 to
($15 plus $2 (shipping); or $10 each for orders of 5 or more):
Rick Friedrich
1350 Parkway Dr. NE 303
Grand Rapids, MI
49525
Click here to order by credit card:
Total = $17.50.
Click here if you would like to: to furthering this ministry.

Thank you, from the Friedrich Family.